Guion and North German Lloyd Lines
Published by Shahdaroba Tuesday 14th February 2012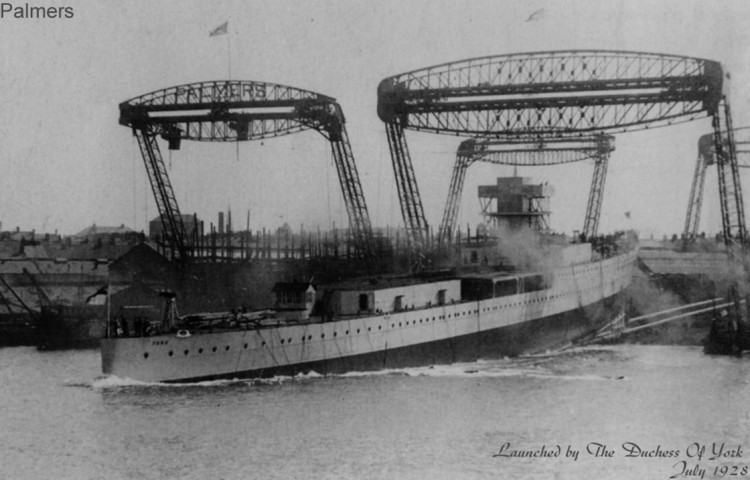 There were more than 100 ships commissioned by the Royal Navy, but this in no way diminished his shipbuilding for other sources. One such ship was the launch of H.M.S. Cruiser "York" for the Royal Navy was christened and launched by the Duchess of York from Palmers Shipbuilding Yard in 1928. A short video of the launch can be viewed at the British Pathe archive.
Amongst his inventory were a number of ferriers built for cross-Tyne duties. These particular ferries were built to work between Jarrow on the south side of the Tyne and Howdon on the north side. In contrast, between 1857 and 1872 Palmer turned out ocean-going passenger ships for the Guion, National, and North German Lloyd lines.
Serving on the transatlantic run between Bremen and New York included the Mowe, Adler, Schwan, and Schwalbe rather small ships weighing in around 500 gross tons, built for North German Lines. These were closely followed by the Hudson and Weser built for the same company. These ships weighed in at a massive 2,250 gross tons when compared to the smaller size of the previous ships.
The Guion Line received larger ocean-going vessels, ranging between 3,100 to 4,300 gross tons in the 1860s and early 1870s these were also designed for transatlantic service. The largest of the collection were the Dakota and Montana. These two ships were launched unusually, with their boilers and engines on board. The other ships were of a smaller size and included: Manhattan, Chicago, Minnesota, Colorada, Nevada, Idaho, Wyoming, and Wisconsin.
Ships built for the National Line included: Ontario, Helvetia, England, Scotland, and Wales all built of a similar size to those built for the Guion Line all leaving the Palmer works in the 1860s.
Back To Charles Palmer: In The Beginning
---