Vehicle Pavement Abuse
Published by Shahdaroba Saturday 3rd March 2012
A local newspaper article about mobility scooters caught my eye. Apparently, an elderly lady boarded her local Metro train using her mobility scooter and was promptly asked to leave the train by the driver. Until she did so, the train would not be leaving the platform.
The elderly lady protested saying she needed to catch the train to pick up her new glasses and she had no intention of getting off the train. It all ended in tears as Metro security, who were called by the driver, removed her and her mobility scooter from the train. So what do you think? Big Brother?… or maybe the heavy arm of the law?… Victimization?… On the face of it, it sure looks like one of them, or maybe all three.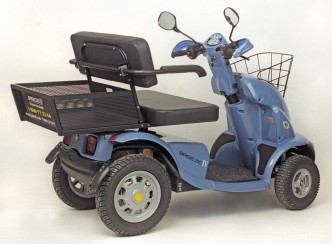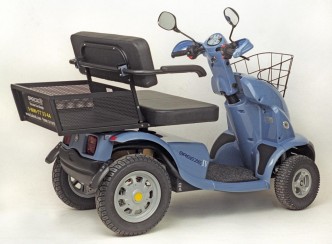 Now let's go back in time a little, and bear in mind that this elderly lady knew all about the ban and maybe wanted to see how far the authorities would go. A few weeks earlier, maybe a month, another article in the local news rag had reported how an elderly person on a mobility scooter had boarded her local Metro train and what happened next could have been a scene from You've Been Framed had it not been so life-threatening!
What happened was that this particular individual tried to board the Metro train driving their scooter but they must have been heavy on the throttle because instead of just boarding the train, they actually crashed through the doors on the other side of the train landing on the opposite rail track. All it took was for the train on the opposite side of the track to be passing at the time of the accident… get the picture?… one seriously injured, or more than likely, one dead elderly person to scrape off of the railway tracks.
Nexus owners of the Metro system rightly or wrongly announced that a ban would be placed on mobility scooter owners boarding trains for the present. An accident that could have resulted in a loss of life was too close a call for them is my best guess.
Now let's move on to another article before the above accident happened. I read a little about a little boy who had been unable to get out of the way of one of these scooters and was knocked to the ground. I also think the article mentioned the scooter owner did not stop… Should that have been a hit and run? The young boy was OK.
Another incident also took place around the same time. This time it was an elderly lady who was knocked down and it was reported that the scooter owner had said they would go and ring for an ambulance… She never came back… Another hit and run maybe? There is a sad side to this story the elderly lady who was knocked down died a few weeks later in hospital. It is reported that the accident could have been a contributing factor in her death.
Do not leave my post saying I am biased against old-age pensioners. I'm not. I am very much aware the mobility scooter gets those individuals that would normally be stuck in the home out into the fresh air. What I am saying is once again the minority are blackening the individuals who use their scooters responsibly.
I feel there should be a place where scooter riders can go to learn how to control their vehicle before being let loose on our pavements, and while I am on the subject of pavements, don't you think we have enough traffic on our 'once safe to walk pavements'. Instead of being knocked to the ground by adults riding bicycles, we now need eyes in the back of heads to watch for low-flying mobility scooter riders!
Given time, and as these vehicles catch on, more and more of them will be invading our pavements so much so, that it will be safer to walk on the highway and take your chance with passing motorists!
---
Mobility Scooter – Image: ezpickscooter.com
Tags: accidents, big brother, driver, elderly, mobility scooter, pavement, vehicle