Elvis Presley: New DNA Information Available
Published by Shahdaroba Sunday 30th March 2014
Way back in February 2012 I blogged how my neighbour had spent an hour + trying to convince me Elvis Presley was living in Canada under an assumed name, while I tried to convince him he really did die back in August of 1977.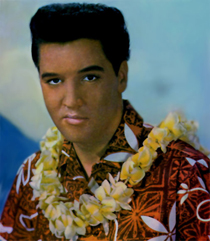 A new documentary Dead Famous DNA, (TV show) is based around learning from DNA how historical people such as Adolf Hitler to Marilyn Monroe may or may not have died now believe after acquiring a sample of the Kings hair, and from DNA results feel they have proof that Elvis may have died from an undiagnosed condition known as hypertrophic cardiomyopathy (heart muscle disease that causes thickening of the heart).
The condition commonly develops in the teenage years or early adulthood and is hereditary in most cases.
Looking back to that fateful day in August of 1977 I remember reading that Elvis and his doctor had both been blamed for his premature death. Suggesting among other scenarios that it was his addiction to over-eating and over-dosing on drugs that had killed him. Another scenario believed by many Elvis fans was he had gone into hiding fearing for his life and his death had been staged.
With this new revelation, it would appear on the face of it while his adopted lifestyle, in his later years, was not particularly good for his health, it did not solely bring about his death.
What do we know? Elvis (the King) suffered from fatigue, fainting, high blood pressure, and irregular heartbeat, and chest pain (angina) among others, which are symptoms of this particular disease (hypertrophic cardiomyopathy).
In his last years on Mother Earth, his weight played a prominent part in (too much of it) his life, along with bad eyesight and headaches maybe… all part of his Generic Make-up making this his final curtain.
---
Tags: elvis presley, hypertrophic, hypertrophic cardiomyopathy, premature death, the king